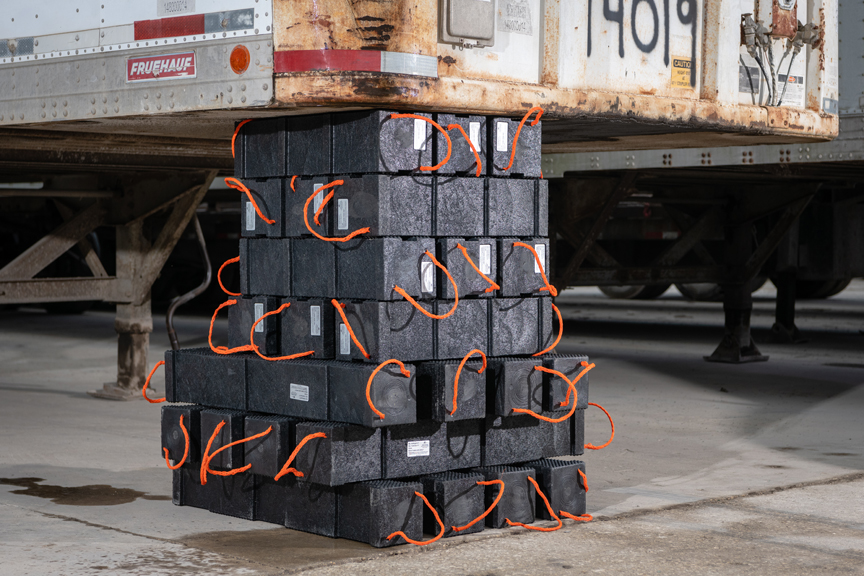 Turtle Plastics has worked closely with industrial, manufacturing, and transportation safety professionals to design Dura Crib/Dura Stat kits for maximum efficiency in safely stabilizing heavy equipment, rail cars, trucks, vehicles and machinery during repair and maintenance. We can customize cribbing and blocking kits based on your industry or even space requirements.
Call us at 1-800-756-6635 or email us at [email protected] for information on our industrial and heavy equipment kits.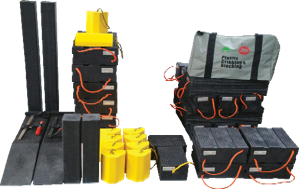 Maintenance Bay Service Kit - General Industry
For a more comprehensive kit for industrial equipment technicians utilizing work within a service bay, we created the Maintenance Bay Kit.  This kit is extremely versatile for industrial plants or shops that repair a variety of equipment including forklifts, tugs, carts or small construction equipment.  The kits includes load-tested forklift support blocks plus additional cribbing to assist in the stabilization of equipment or machines. Complies with no wood policies found in many industrial facilities.
Mfg. Part #: MBS
(1) IBS-R Forklift Stabilization Kit – choice of 2 Lock Blocks or 2 Stockpicker Rizers (see previous page for component listing of this product) +
(4) WC-2 Double Wheel Chocks
(6) S612-24 The Slab
(4) SC612-12 The Half Slab
(12) PC24 Prime Crib
Weight: 571.52kg/1,260 lbs.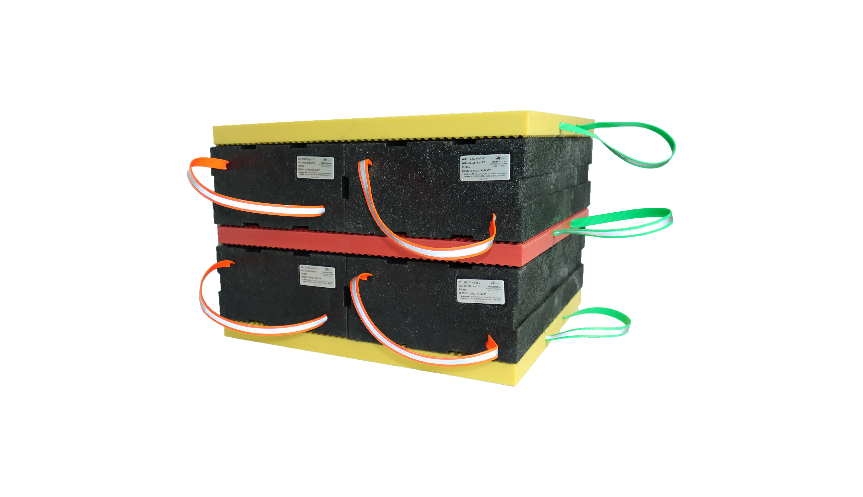 Railroad Safety Kit
Working with industry repair technicians this kit was designed to provide a basic and extremely durable crib stack configuration used during rail car repair. This specific kit contains:
Mfg. Part # RSK-1
(4) The Slab
(2) Slab Pad 2 – Yellow
(1) Slab Pad 2 – Red
We can also customize kits containing appropriate products for your application.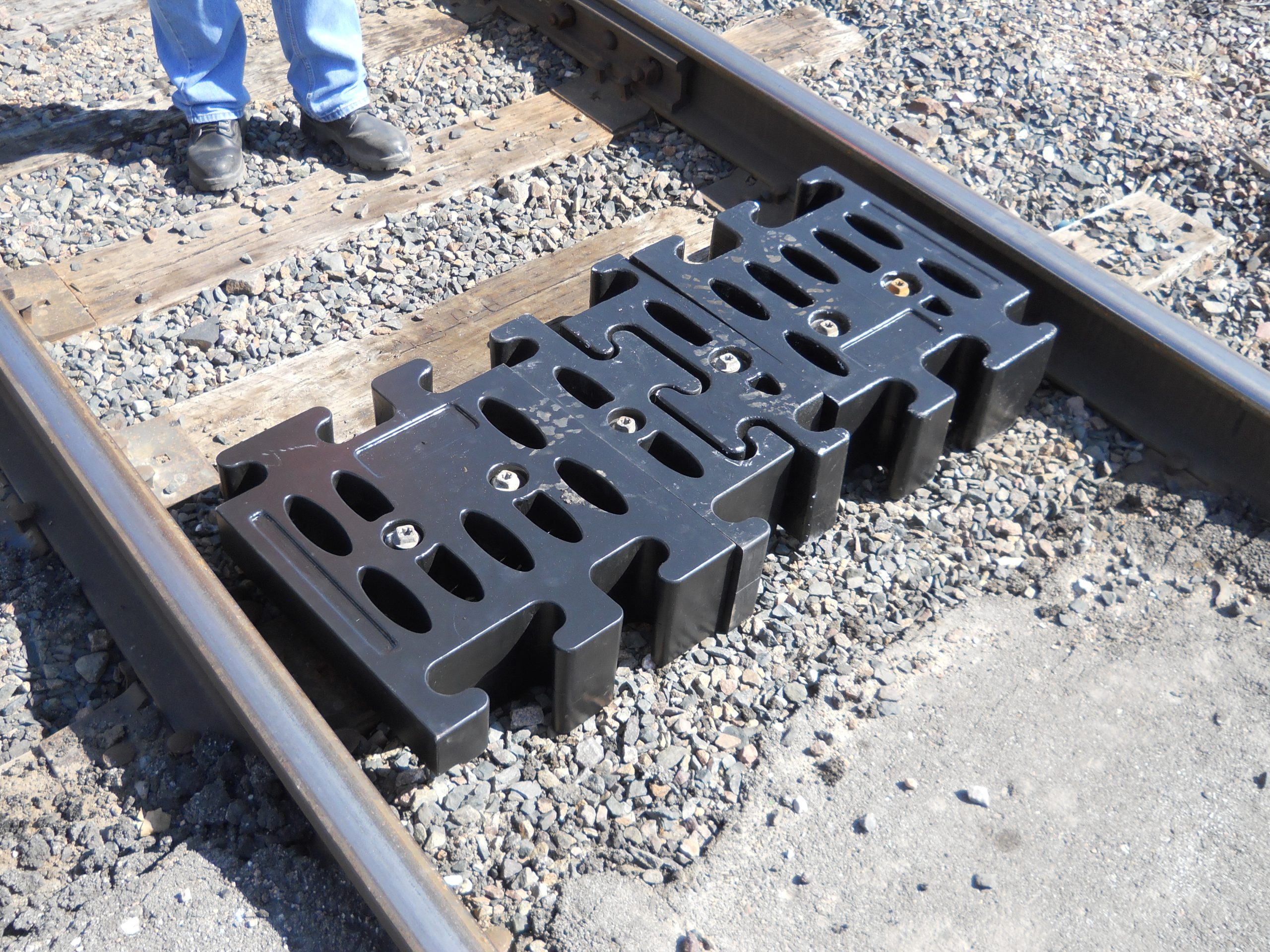 Turtle Trax Kits
12-piece Turtle Trax kit allows for quick installation where vehicle or truck crossing is needed. There are enough components to create a portable crossing for most sized vehicles and heavy equipment during rail crossing repairs. Click here for a short video on the
Turtle Trax
.
Part #TT-237-27/12 pk.
Puzzle design locks multiple pieces securely in place.
Portable modular rail crossing repair system provides safe crossing for most types of vehicles and trucks during crossing repair.
US Pat. No. D815,306.
Dimensions: 27 9/16" x 23 1/8" x 6 3/4" Each
Weight: 29.48kg/65lbs. each piece and 354kg/780lbs. for complete kit.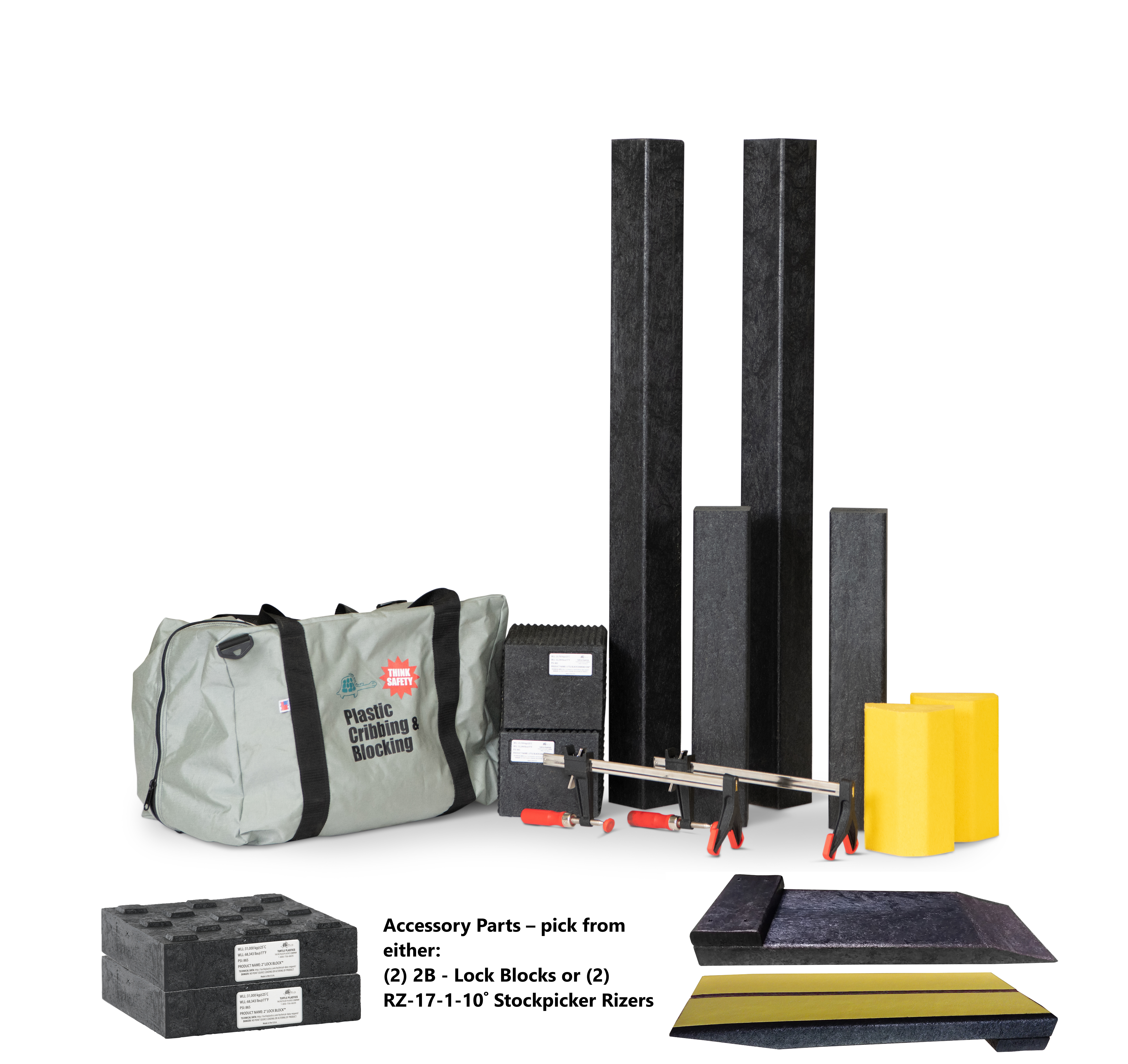 Forklift Stabilization Kit R
Leading forklift manufacturers insist that their technicians use Turtle Plastics Forklift Kit to stabilize equipment during repairs. Unlike wood mast blocking, our engineered plastic mast blocking is tested to a vertical working load. Kit components include multiple forklift support blocks — 4 specialty Dura Stat blocks tested for vertical exertion of the channel mast, 2 wheel chocks, 2 clamps, 2 Little Black Diamond Cribs, choice of 2 Stockpicker Rizers or 2 Lock Blocks – and a carry bag for mobility.
Mfg. Part # IBS Kit R
Contains:

(1) Double Wheel Chocks
(2) Bessey Clamp
(2) Little Black Diamond Crib
(2) 4˝x 4˝x 48˝ (true) Dura Stat
(2) 4˝x 4″ x 22˝ (true) Dura Stat
(1) Carrying Bag
(2) Accessory Parts – pick from either Lock Blocks or Stockpicker Rizers

Weight: 103.41kg/228 lbs.