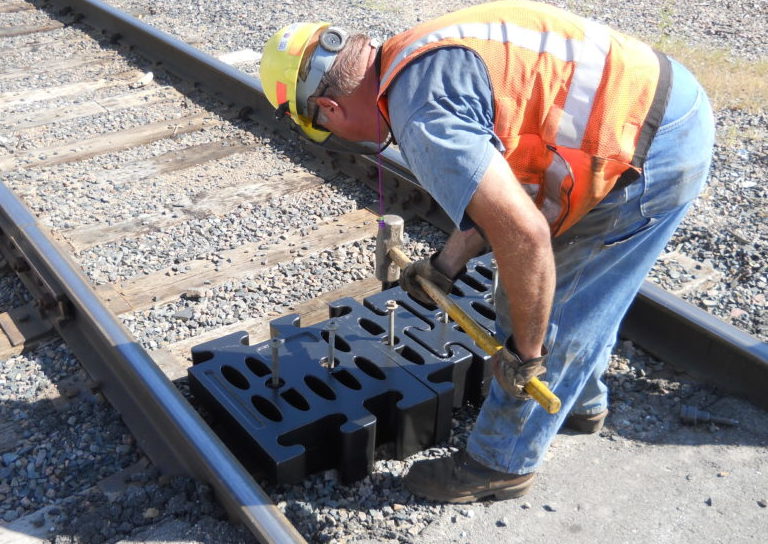 Our versatile Dura Stat™ products are smooth-profiled engineered plastic products. Dura Stat brand products include blocks, coil pads, the Turtle Tube Gen2 Grain rescue sleeve, hose bridges, loading rizers, temporary crossings, wedges, and wheel chocks. Dura Stat was created for single layer application and when load bearing is static and not active loaded. For this reason, we do not recommend Dura Stat products for any cribbing applications. Please use Dura Crib brand products instead.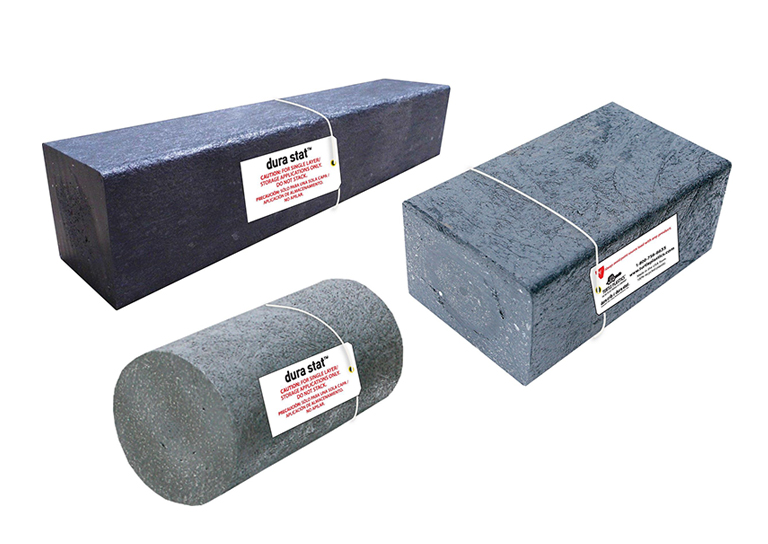 Smooth Profile Blocking
Dura Stat brand of engineered, recycled plastic blocking is an incredibly strong and durable
alternative to wood
in applications such as material storage both indoor and outdoor as well as marine shoring. Dura Stat is made from quality recycled plastic that is enduring and warrantied. Dura Stat components come in many different sizes and can be cut to your specific measurements. Dura Stat was created for single layer application and when load bearing is static and not active loaded. For this reason, we do not recommend Dura Stat blocks for any cribbing applications. Please use Dura Crib brand products instead.
Part #DSS
Smooth profile on all four sides.
Multiple lengths available ranging from 4" to 6."
Replaces metal framing and wood timbers for storing raw materials.
Creosote-free and superior performance to railroad timber.
Easy to create structures for indoor/outdoor material storage.
Ideal alternative to wood on tractor trailers during material transportation (dunnage).
Washable; won't rot, split, or absorb moisture.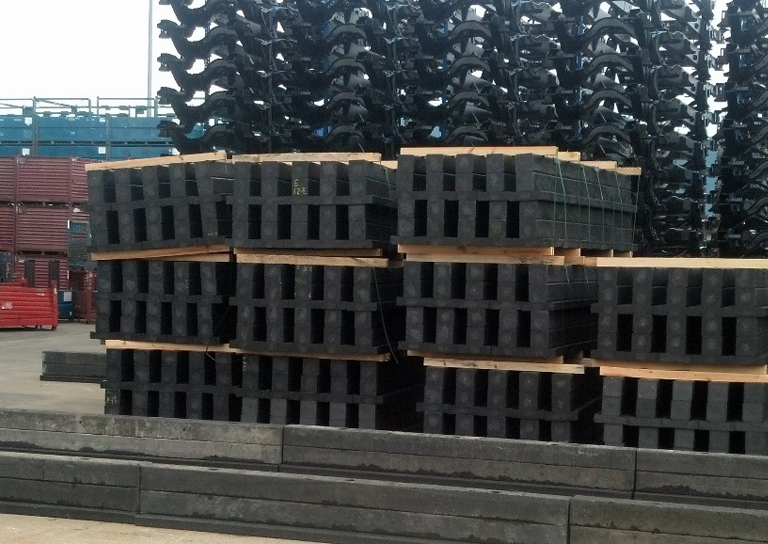 The Frame Master™
Material storage of large and very expensive industrial products is often a challenge for facilities. Many times, plant or facilities managers use outdoor space out back to store items, using railroad timber or steel shelves to contain the material.
However, these structural materials can rot or rust, leading to a dangerous worksite that can endanger workers who work near that storage and/or damage valuable materials that are at risk of falling as a result of structure degradation.  Structural degradation of wood or steel framing is not always visible to workers until an accident happens.
The Frame Master from Turtle Plastics is an award-winning product that is an ideal solution to the safe materials storage challenge. We will work with you to create the ideal storage configuration using Dura Stat engineered blocking that will be assembled together to create a safe, weather-resistant, and economical solution. Read this case study profiling a Frame Master success story.
Contact us at 1-800-756-6635 to learn more about Frame Master or ask questions or to request a visit to your facility to help with a solution.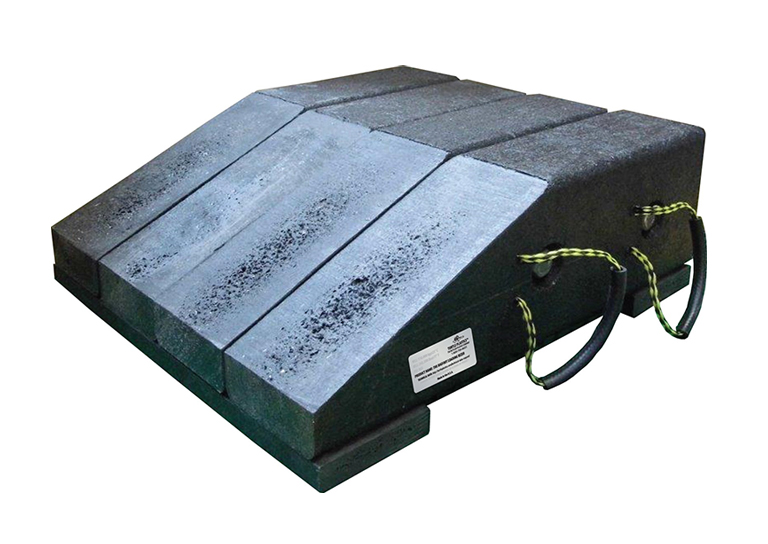 Big Foot Rizers™
Our rizers are ideal for loading low-boy track vehicles. Portable and durable, they are ideal for use in mining, military, utilities, and road construction. The loading Big Foot Loading Rizers are made of heavy-duty construction with a 45° angle grade. Three stock sizes to choose from.
Part #: RZ-BF2-1
Dimension: 8"x10 3/8" x 24"
Weight: 24.49 kg/54lbs.
---
Part #: RZ-BF3-1
Dimension: 8"x16 ½" x 24"
Weight: 36.74 kg/81lbs.
---
Part #: RZ-BF4-1
Dimension: 8"x20 ¾" x 24"
Weight: 48.98 kg/108lbs.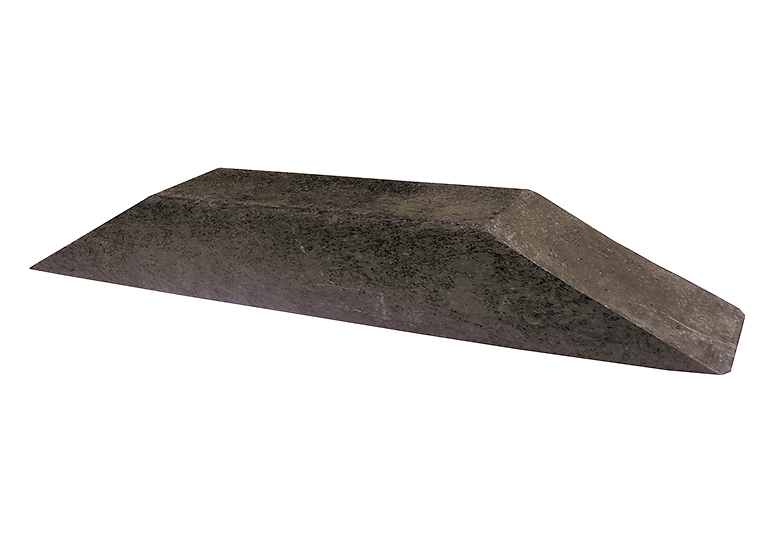 Rizers™
Indispensable ramp safety products for track vehicles, forklifts, lo-boys, auto transport, or vehicle inspection.
Inexpensive repair tool for indoor/outdoor use.
Choose from over a dozen sizes.
Ergonomically designed, durable, and portable.
Lighter weight than steel ramps.
Customizable options include angle of rizer, lanyards, and slip-resistant bottoms and ramps.
Turtle Trax™
An ideal rail crossing repair solution. Now there's no need to have local law enforcement on hand to redirect traffic or close crossings for repairs. From start to finish, Turtle Trax installs in less than two minutes, using either a sledge or air hammer.
Part #: TT-237-27
Puzzle design locks multiple pieces securely in place.
Portable modular rail crossing system provides safe crossing for most types of vehicles during rail crossing repair.
US Pat. No. D815,306
Dimensions: 279/16˝ x 231/8˝x63/4˝ each.
Weight: 29.48 kg/65lbs. each.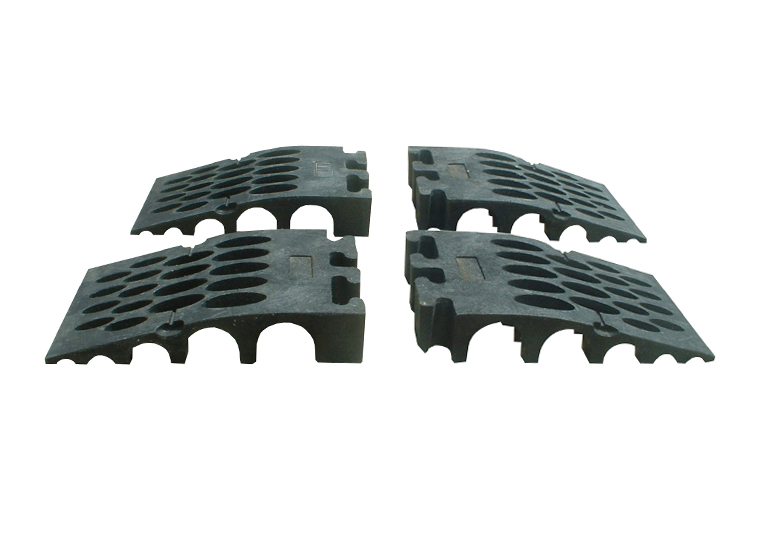 Standard Hose Bridge Set™
Each hose bridge set contains four pieces for a comprehensive product that provides temporary safe passage. Protects hoses and allows for easy movement of traffic or pedestrians. Use on flat surfaces such as streets, roadways, parking lots, paved highways, paved sidewalks, and pool areas.
Part #: HBS
Dimensions: 70˝ x 49˝ x 6¾˝
Product Unit Weight: 108.86 kg/ 240lbs.
Openings: accepts 3",4" and 5" O.D.
Available with grit tile toppers for safely walking over bridges.
14,000 lbs. per axle load capacity.
Patented design (U.S. Pat. No. D552,217).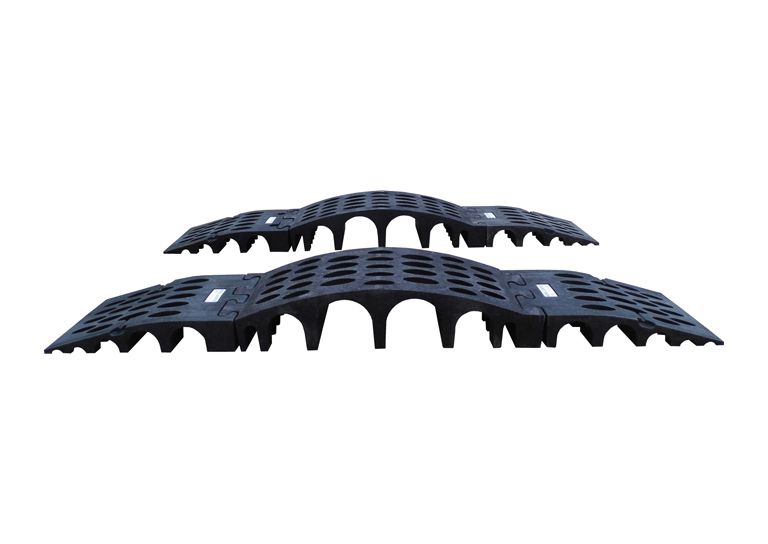 Super Hose Bridge™
Each super hose bridge contains a total of six pieces that creates a super structure for temporary safe passage when driving is required over larger hoses. The Super Hose Bridge has wider ramps than the Standard Hose Bridge. Use on flat surfaces such as streets, roadways, parking lots, paved highways.
Part #: HBS68
Dimensions: 126˝ x 49˝ x 12¼˝
Product Unit Weight: 244.94 kg/540 lbs.
Openings: accepts 6˝, 8˝ and 10˝ O.D.
Patent Pending (U.S. Pat. No. 29/544,094).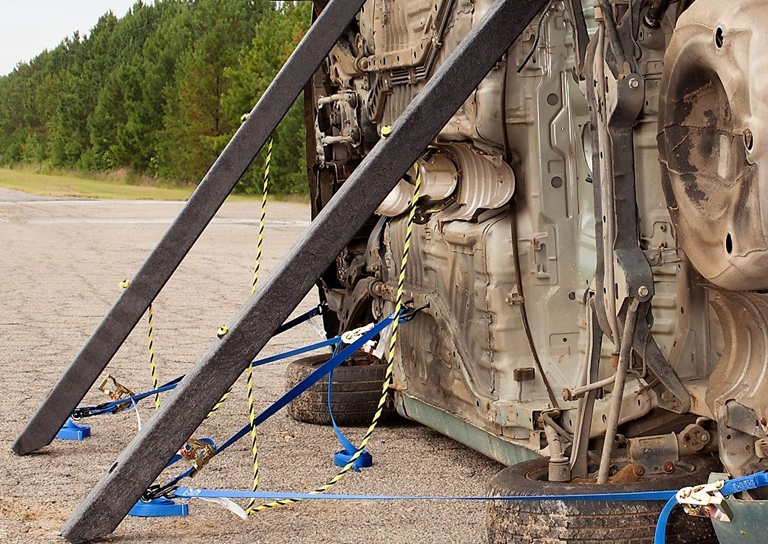 Poor Man's Shoring Crib™
Our shoring cribbing is the alternative to wood shoring during non-trench stabilization maneuvers. Made from durable re-engineered composite Dura Stat plastic.
Part #: 44HCH
Pointed end to vehicle.
30% slope to ground.
Dimensions: 4″x 4″x6′ per piece.
Weight: 13.6kg/30/lbs. each piece.
Available in a kit. See Fire & Rescue Kits.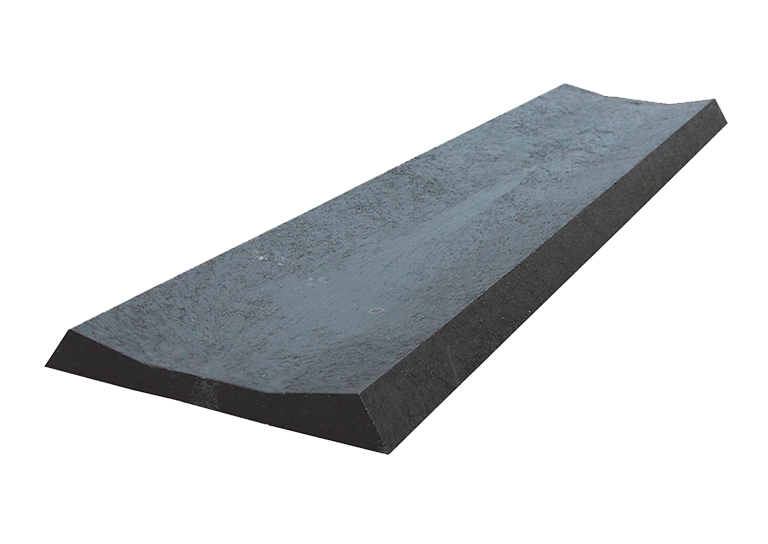 Standard Coil Pads
Protects valuable material from wet floors and from rolling.
Single layer application.
Facilitates material handling.
May be used indoors or outdoors.
Used in steel, textile, and transportation industries.

Part #: CP-4 Standard Coil Pad 4´
Weight: 9.07 kg/20lbs.
Part #: CP-5 Standard Coil Pad 5´
Weight: 11.33 kg/25lbs.
Dimensions: 4´or 5´x 12˝ x 3 1/2˝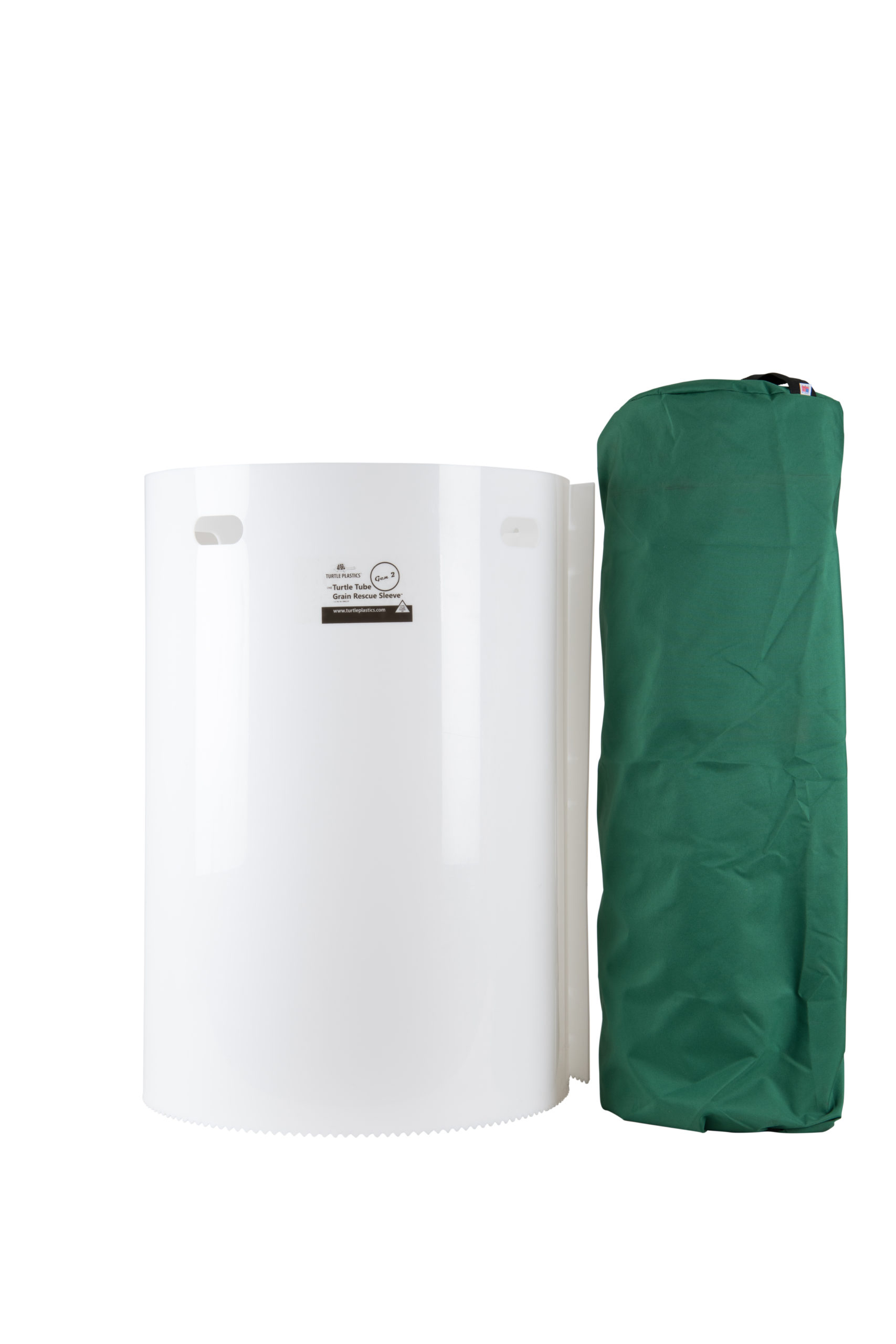 Turtle Tube – Gen 2 Grain Bin Rescue Sleeve™
Improved for better grip and higher efficiency during deployment, The Turtle Tube – Gen 2 Grain Rescue Sleeve was developed specifically for use during rescue operations of horizontal entrapment that occurs in grain handling at food processing plants, breweries, elevators, and grain transport vehicles. The Turtle Tube – Gen 2 Grain Rescue Sleeve (also referred to as a "grain rescue tube") is designed, developed, tested, and built by farmers and firefighters working together to save lives. This innovative device is the most cost-effective grain rescue tube product and has the fastest rapid deployment in the market. This product is manufactured using virgin plastic.
One-piece, heavy duty plastic construction.
Three self-latching mechanisms – no more bolts or screws to assemble device.
Serrated teeth at bottom of sleeve to assist in gripping grain during
rescue operation.
Rapid deployment (less than one minute). Cut outs for hand placement once deployed.
15˝ storage diameter; small footprint inside apparatus cabinet; its compact design enables single individual to transport.
Reflective roll belt is provided to keep device secure when not in use.
Heavy duty nylon carrying bag with straps is included.
Patented design U.S. Pat.No. D809,210.
Most economically priced rescue device on the market.
The device is washable, odorless and lightweight.
Weighs only 18 lbs.
Wedges
We offer an assortment of wedges both smooth and pyramid faced to assist with leveling and in cribbing applications in both fire and industrial applications. Call us at 1-800-756-6635 for further information on wedges.
Wheel Chocks
Offered in bright yellow to help easily identify tires, our plastic wheel chocks are a safety must when working with rolling equipment. Wheel chocks come tethered for added safety.
Prevents accidental movement of tires onto workers.
Use at both front and back of tire for extra security.
Versatile for use in airports and fire departments.
Very affordable.
Single Wheel Chock
Part #: WC-1
91/2˝ L x 57/8˝ W x 35/8˝ H
Lanyard
72 kg./6 lbs.
Double Wheel Chock
Part #: WC-2
91/2˝ L x 57/8˝ W x 35/8˝ H
Tethered with lanyard for front and back tire support.
44 kg/12 lbs.
Bottom grit surface available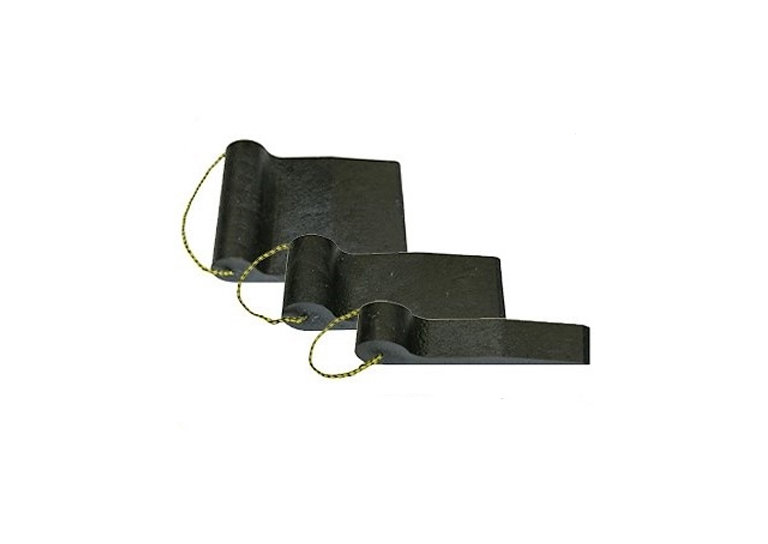 Tire Skates
Available in three sizes with lanyards.
Part #: TS-1W
Dimensions: 171/4˝ x 31/4˝ x 4˝
Weight: 1.36kg/3lbs.
---
Part #: TS-2W
Dimensions: 171/4˝ x 61/2˝ x 4˝
Weight: 2.72kg/6lbs.
---
Part #: TS-4W
Dimensions: 171/4˝ x 13˝ x 4˝
Weight: 5.44kg/12lbs.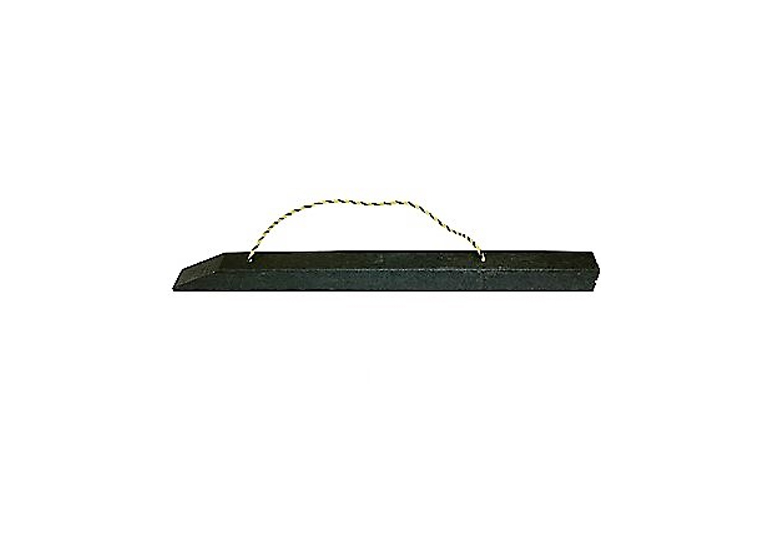 Rollover Stick
Part #: 44-48PS
Dimensions: 4˝x4˝x 48˝
Weight: 8.16kg/18lbs.
Jack Rabbit Base™
Part #: JRB92-17-L
Stabilizes jacks or uneven surfaces during towing operations.
Pyramid surface pair with our other cribbing where additional height is needed.
Dimensions: 16 3/4″x9 1/4″x2″
Weight: 3.18kg/7lbs.